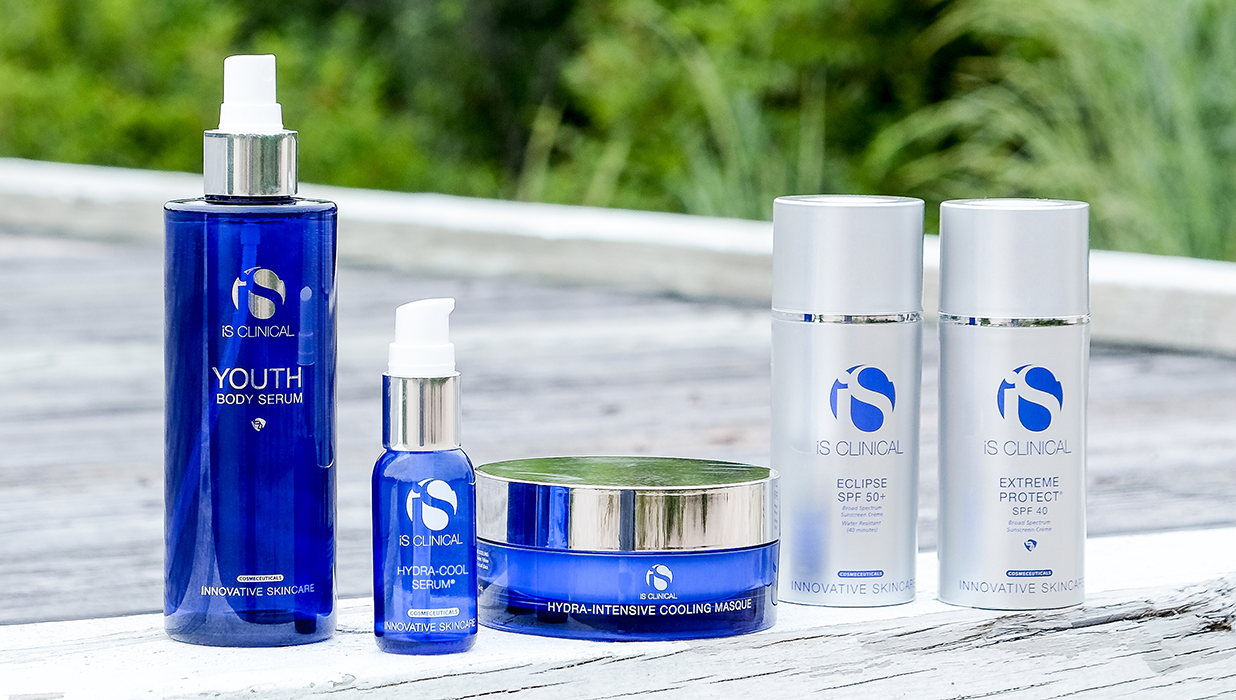 We hate to say it, but the end of Summer is near. Many of us have shamelessly spent long hours outdoors this season. Whether hitting the links at the golf course or sitting poolside with a good book - we probably didn't wear as much sunscreen or reapply as often as we should have.

Over exposure to the sun can leave a lot of damage on our skin, not only inflammation from a sunburn, but pesky sunspots and hyperpigmentation as well. The truth is, sunburns and even that "sun-kissed glow" can manifest later as photoaging, and even worse, skin cancer.

Sunlight contains full spectrum of UVA and UVB light consisting of photons, packets of free radicals, or energy that damages skin on all levels. It accelerates risks of aging and increases risk of skin cancer. The sunburn cell has been called a "solar signature", meaning it's a very typical occurrence from sun exposure and sun exposure always causes damage to DNA within skin cells and formation of sunburn cells.

It's important to address sun damage right away. Below are excellent post-sun products to provide relief and protection for your damaged skin:
ECLIPSE SPF 50+ AND EXTREME PROTECT SPF 40

First and foremost, the best solution to sun damage is prevention. But even if you've failed to prevent sun damage on your skin, these sunscreens can also help post-solar exposure. Loaded with antioxidants and healing properties, Eclipse SPF 50+ and Extreme Protect SPF 40 actually reduce erythema (sunburn). Lather up with these protecting formulations to guard your skin against the harsh environment and free radicals. They also deeply hydrate dry, thirsty skin as they work to support optimal skin health.

YOUTH BODY SERUM

Don't neglect your body from the negative effects of sun radiation either. Much more than a moisturizer, this nourishing serum mist helps you cover all the hard-to-reach areas of the body and provides powerful hydration. A combination of Hyaluronic Acid, botanical extracts, Vitamin B5, and our proprietary Extremozymes create a unique experience designed specifically for the body. Spray away your post-sun damage to leave your skin feeling more fresh, soft, and hydrated.

HYDRA-COOL SERUM

Refresh and renew your skin with Hydra-Cool Serum. UVR greatly induces dehydration within the skin. Restoring water balance will assist in healing the skin and normalizing healthy cellular functions. Formulated to rejuvenate, hydrate, and visibly soothe, this is the product to grab when you need instant relief. It combines superior antioxidants with essential botanicals and bionutrients. Hydra-Cool Serum is designed for all skin types, ages, and is gentle enough for even the most sensitive skin, perfect for post-sun exposure.

HYDRA-INTENSIVE COOLING MASQUE

This rich, luxurious cooling masque will help to calm angry skin. The professional strength formula features natural botanical antioxidants Centella Asiatica, Resveratol, Green Tea, Aloe Vera, Rosemary Extracts, and Hyaluronic Acid to reinvigorate, refresh, and provide soothing hydration. For skin that is irritated and sensitive (even after sunburn), this lightweight gel masque helps nurture and quench dry skin with a much-needed, cool burst of refreshment.

Although we can't take back all those hours spent in the harsh sun, it is reassuring to know that there are high-quality products available to provide relief and renewal to our skin. Your skin will thank you in the future for being kind to it now.